One stop shop whether looking to vacation or just passing through Whites City NM has something for everyone. 
At the heart of Whites City is our Grocery store and Gift Shop which includes the largest Carlsbad Caverns souvenir shop in NM, with many unique gifts handmade and crafted in New Mexico. While in the gift shop explore our unique art, animals, and get your fortune read by Zoltar himself.  Stop by the grocery store to get all of the goodies for your camping trip or the next leg of your road trip. Serving fresh pizza, burritos, and hot dogs daily. 
Don't forget to grab fuel before you head on your next adventure as Whites City is the last fuel station between Carlsbad and El Paso TX.  
Stay in the RV Park, spend the weekend at the Cavern Inn, during the summer months as a guest you will have access to the Walnut Canyon Water Park. Looking to stay longer? We have 12 apartments that are available as a monthly rental (call the gift shop for availability 575.361.3665) 
The Cactus Cafe is open 6 days a week (Tues – Sunday) serving breakfast, lunch, and dinner, and of course we have ice cold beer and mouth watering wine. If your nightly stay has turned into a week long adventure and you've run out of clothes, we have you covered with our new laundry mat. 
White's City New Mexico (located 4 miles or 6.4 km east of Carlsbad Caverns National Park) was first settled by visionary businessman Charlie White. Contrary to popular belief, White's City was not founded by the credited discoverer of Carlsbad Caverns, James (Jim) Larkin White and there is no record of any relationship between Jim and Charlie.
Charlie White founded White's City in the early 1900′s. Charlie White, born in Cyclone Kentucky, was a Bowling Green graduate in accounting and a businessman throughout his life. After Charlie's graduation, he came to New Mexico in 1909 where he became an instructor in the oilfield school for Southeast New Mexico. He also owned a mercantile store in Loving, New Mexico and eventually opened a fueling station where he installed the first hand pump in the town. He was involved in a partnership that owned the first bank in Loving and he worked as a cashier.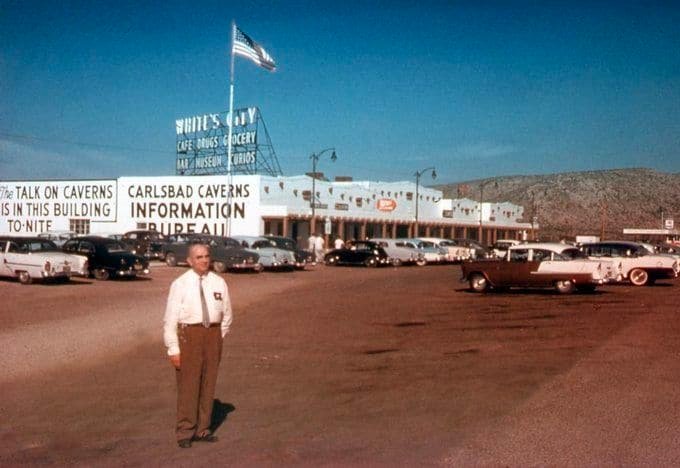 One day, Charlie was on a family vacation to visit the Carlsbad Caverns, when he had the idea to purchase the land adjacent to the canyon entrance to the cave. With very little capital and a great vision, "White's Cavern Camp" was established. White's City Cavern Camp originally consisted of a single home, 13 visitor units, and a fueling station. Years later (approx. 1963) the name was changed to White's City and the city was officially registered as a recognized as a Census-designated Place in the state of New Mexico and United States of America.
During the Great Depression, the Pueblo Motel was built to expand capacity for travelers. Charlie also opened a car garage, a drug and grocery store, and a museum to help serve Carlsbad Caverns' visitors. Over time, descendants of Charlie White eventually took over the family business and grew the city to have many more attractions and offerings. Other attractions that previously existed early in White's City's history included a chair lift ride up to the top of Walnut Canyon, a melodrama theatre, The Million Dollar Museum, the Velvet Garter Saloon, and other tourist-associated shops.
White's City has grown substantially since its early beginnings. Although White's City primarily serves visitors to Carlsbad Caverns and Guadalupe Mountains National Parks, White's City is a common place for locals to visit, and many are glad to call White's City home. White's City offers a scenic, quiet, and secluded environment in the tranquil hills of the Chihuahuan desert that has earned White's City high marks from many travelers as one of the hidden gems of the area.
Many changes have occurred in White's City over the over the years and damatic renovations have taken place recently to restore the historic richness and cultural uniqueness of White's City New Mexico. Attractions such as the water park, gift shop, museum, and Cactus Cafe are also very popular stops for many visitors. The two closest hotels to Carlsbad Caverns National Park are located in Whites City and a spacious RV Park and campground near the National Park is also available. From humble beginnings White's City New Mexico has become a must see for Carlsbad Caverns vacationers as the gateway to the Carlsbad Caverns.